You will need a tube of choice
Font of choice
My Supplies HERE

Open a new canvas 600x600 white




1- Copy & paste my grid as a new layer
Go to Selections - Select All-Float-Defloat
Chose 2 colours from your tube - flood fill the grid
with one colour (keep selected) - new layer - go to Selections
Modify-Expand 1 - flood fill with 2nd colour. Bring that layer under
1st layer. Merge - Merge Down - Unselect.

2- Copy & paste your tube - move under grid - go to Adjust-Gaussian Blur
35 - then go to Effects - Texture Effects Mosiac Glass with these settings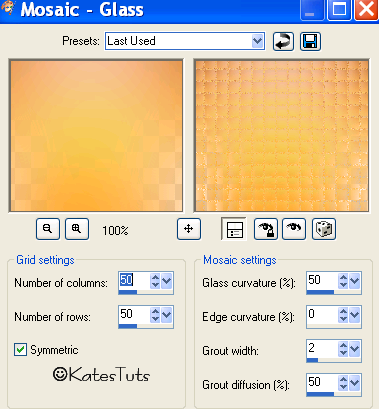 Go to Image - Resize by 90% making sure Resize All Layers is unticked.

3- Copy & Paste your tube as a new layer (top layer) - resize if needed, placing
it right side of grid, like mine - duplicate the tube & mirror it. Merge - Merge Down
Apply a drop shadow to tubes & grid as shown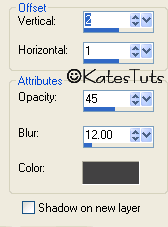 4- Make the grid layer active - Magic Wand with these settings





click inside each square as shown - duplicate 3 times to give you 4 duplicated layers
Make grid layer 1 active - go to Effects - Plugins- Xero - Fritillary with these settings




Cross eyes out on that layer & go to next layer - increase the Granulary by 10. Do this to the next 2 layers
Unselect

5- Now, add your greeting & name. Add correct copyright. You can now crop your tag or resize down at this stage,
remembering to have Resize All Layers ticked this time.

Animation

Cross out all eyes on duplicated layers having your raster layer 2 active - copy merged - go to
Animation Shop & Paste as a New Animation. Go back to your PSP, cross out eyes on raster layer 2 & make next
layer active, copy merged, back to AS Paste After Currant Frame. Continue this till you have all your
duplicated layers copied across.

When you have your 4 frames in AS go to Edit - Select All, then go to Animation - Frame Properties & type in 15

Save as a *Gif*


This tutorial was written by ©Kate on 9th August 2009.
Any resemblance to any other tutorial is purely coincidental.
You may Link to this tutorial, and/or print for your personal use only.
Please do not copy, rewrite, translate, place it (or Zip files)
anywhere on the web, send via email, or claim it as your own.