What you need:

Tube of choice
Font of choice
Toadies Plugin Filter - Ommadawn
Alien Skin Xenofex2 Plugin Filter - Constellation

New white canvas 600 x 600




Copy & Paste your tube as a new layer
Duplicate tube - making original tube layer active
Toadies - Ommadawn with these settings





Cross out the eyes on your duplicated layer & with your Magic
Wand click on the black lines on the Ommadawn layer
with these settings




Hit delete on your keyboard. Keep selected, new raster layer
pick 2 colours from your tube - foreground dark colour, background
lighter colour - Gradient - Flood fill the deleted lines.




Move this layer under the Ommadawn layer - give it a drop shadow
with these settings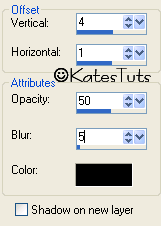 Give your tube a drop shadow as well as above.
On your Ommadawn layer. Lower the Opacity to about 65
Cross out the eyes on you Background layer & Merge Visable all
other layers.

Make your Background layer active - Select a heart shape from your Preset Shapes
& draw out a nice sized heart using the same colours as you did for the Ommadawn layer.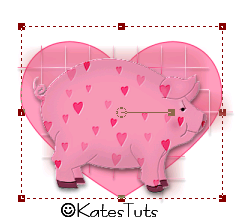 When you are happy with the placement of the heart, convert it to Raster Layer.
Give your heart layer the same drop shadow as before.

Duplicate your heart layer 3 times to give you 4 layers.
Cross out the eyes on the duplicated layers & make original heart layer active.
Go to Alien Skins Xenofex2 - Constellations with these settings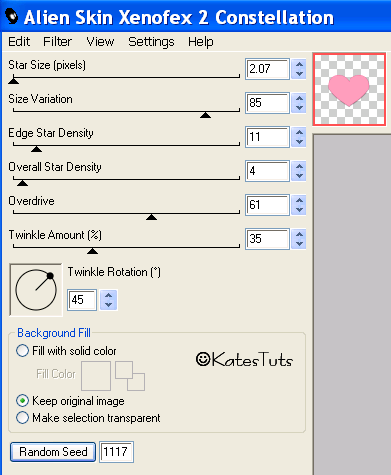 Continue this with other duplicated layers clicking Random Speed for each layer.

Make your top layer active - it is now time to add your text.
Don't forget to add the correct copyright as well.

Using your Crop Tool, crop around your image so you don't have a lot
of white background - resize ALL LAYERS if needs be as well.

ANIMATION

Making your original heart layer active - Copy Merged - go to Animation Shop
& Paste as a New Animation. Back to PSP, cross out eyes on original layer & make next layer
active - Copy Merged - AS, Paste After Currant Frame - continue this until you have your
4 frames in AS.

Go to EDIT - Select All - then go to Animation - Frame Properties & make them 15

Save as a GIF*


This tutorial was written by ©Kate on 7th September 2009.
Any resemblance to any other tutorial is purely coincidental.
You may Link to this tutorial, and/or print for your personal use only.
Please do not copy, rewrite, translate, place it (or Zip files)
anywhere on the web, send via email, or claim it as your own.