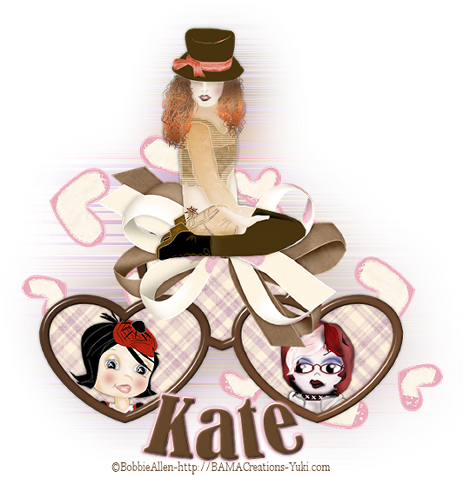 You will need:

3 tubes
My supplies HERE
Scrapkit I used is from ©Cupcakesprinkles called
'Confectioners Sugar' Or you may use another kit of choice
Font I used is called Bernard MT Condensed
(came with my PSP9)
VM Toolbox Filter

New white canvas - 700x700
We will resize later




Open up my supplies, copy & paste the Hearts Template
as a new layer - you can colourise it to suit your tubes.

Move the template down your canvas a little.
Magic Wand click inside each heart - Selections-Modify-
Expand by 7.

Select a paper from the scrapkit & paste it as a new layer.
Selections - Invert click delete. Move paper layer below hearts.
Deselect.

Magic Wand - click inside bottom hearts, copy & paste your tubes,
placing in centre of hearts. You may have to resize down a little.
Selections - Invert, click delete. Move your tube layers below hearts
Give each tube a slight drop shadow




Make your top rater layer active, copy & paste 3rd tube & place similar to mine
Give this tube the same drop shadow.

Copy & Paste a bow from the scrapkit, move it under top tube layer. Resize 80%.
Give bow the same drop shadow.

Making your background layer active, copy & paste the Heartclusters from scrapkit.
Resize 85% - Duplicate - Mirror & move duplicated layer down a little


Cross out the eyes on the background layer & Heartcluster layers - merge visable other layers.
Duplicate your merged layer, making original merge layer active - Adjust-Blur-Gaussian Blur-35
Effects-Plugins-VM Toolbox-Motion Trail Wide- Default settings. Resize 90%.




Cross out background layer, merge other layers visable - rezise 90%. Add corrcet copyright
& your name. Merge Down. Crop image. Save as a *Png


This tutorial was written by ©Kate on 13th October 2009.
Any resemblance to any other tutorial is purely coincidental.
You may Link to this tutorial, and/or print for your personal use only.
Please do not copy, rewrite, translate, place it (or Zip files)
anywhere on the web, send via email, or claim it as your own.