You will need:

My supplies: HERE
A tube
Xero Plugin Filter-Fritillary
Font of choice - I used: HarlowSolidItalic-size 72
Animation Shop

Open up the SD supplies in PSP. Click Shift D to duplicate the template.
Close off original template & delete my TOU layer.
Make bottom layer active - go to Image-Canvas Size with these settings




Using you Flood Tool - flood bottom layer white. We will trim this down later

Make the Shape layer active - Selections-Select All-Float-Defloat-New Raster Layer,
flood Fill with a dark colour from your tube-Select Non.
Delete the original Shape layer


Effects-Inner Bevel with these settings




Make the Inner Circle layer active - select 2 colours from your tube - one light-other darker
in your Materials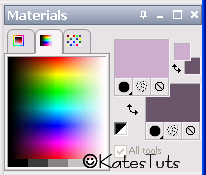 Select Gradient - Foreground/Background Gradient with these settings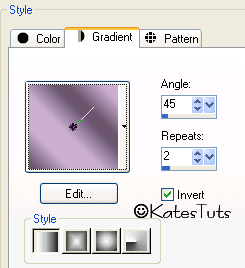 Selections-Select All-Float-Defloat - New Raster layer, flood fill with gradient
Select None

Make the Circle Frame layer active - Select All-Float-Defloat - New Raster Layer - flood fill with light colour
from you tube - Select None - same inner bevel as before

Copy & paste the tube & centre it in the circle - you may have to resize - see mine as example.

Give the tube & Circle Frame this Drop Shadow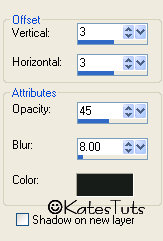 Copy & paste my WordArt as a new layer.

Add your name & correct copyright.

Back to your Shape layer - duplicate it 2 times to give you 3 layers.
Cross out the eyes on 2 top layer, making original layer active, go to
Effects-Plugins-Xero-Fritillary with these settings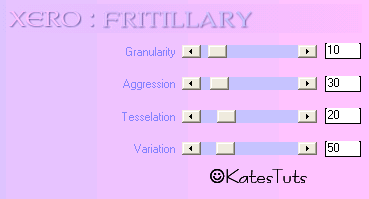 Next layer change the Varition to 60 - then last layer to 70.

Using your Crop Tool, crop around your image to rid most of the white background.
At this stage you might want to resize you image - I resized mine by 80% Bicubic,
All Layers Checked


ANIMATION

Cross out the eyes on the 2 duplicated Shape layers making original Shape laye active,
Copy Merged - Animation Shop - Paste as a New Animation.
Back to your PSP, uncross next layer - crossing out the eyes on 1st layer, copy merged,
AS - paste after currant frame. Continue this for the last layer in your PSP.
You should have 3 frames in AS - hold down your Ctrl key plus A to select all.
Save as a *Gif


This tutorial was written by ©Kate on 12th December 2009.
Any resemblance to any other tutorial is purely coincidental.
You may Link to this tutorial, and/or print for your personal use only.
Please do not copy, rewrite, translate, place it (or Zip files)
anywhere on the web, send via email, or claim it as your own.